Celebration of Yoga Day & World Music Day.
---
Fun Fair
Fun Fair was organized for the students on 14th March. A variety of food and game stalls were put up and the students along with the parents actively participated in the event.
---
Annual Exhibition
Annual Exhibition of the school was organized on 28th February 2019. Dr. Lahori, Director of Anekant Institute of Management Studies and Parent Representative, Mr. Manoj Ubale inaugurated the exhibition. The exhibition provided a platform for the students to exhibit the various items, models, charts and other exhibits, which they had prepared throughout the session in Science, Maths, Social Science, Languages, Arts, Music and Sports. It also gave students a chance to explain their projects to the visitors and get their valuable feedback.
---
Annual Day
Annual Day, the most awaited event of the session was held on 24th December. Mr. Hanumant Patil, Honourable Tehsildar was the Chief Guest of the function. He gave away the prizes for the performances of the students in the sphere of academics and extra-curricular activities and motivated the students with his inspirational speech. All guests, parents and students enjoyed the various cultural programmes organized by the students on the theme 'States of India' and enriched their knowledge about the varied and rich cultural heritage of India.
---
Measles Rubella Vaccination programme
Measles Rubella Vaccination programme was initiated in the school on 28th November in association with the Government of Maharashtra for the safety and well being the students .
---
Sports Day
Sports Day was organized on 2nd November for both the pre primary and primary sections. A number of fun races and team games were organized. Students took active part in all the races and games, and sweated it out in the school ground. The winners were applauded and awarded in the school assembly for their achievements.
---
Ganesh Chaturthi
Ganesh Chaturthi was celebrated on 13th September with a lot of gaiety and funfare. An eco-friendly Ganesha made by the senior students was installed in the school premises for seven days to the tune of dhol and lejhim. A number of competitions were organized during the course of seven days. These included Colouring Competition, Fancy Dress Competition, Poem Recitation, Craft Competition. Students participated in large numbers and thoroughly enjoyed the celebrations and the activities organized during this time.
---
AEMS Founder's Day Celebration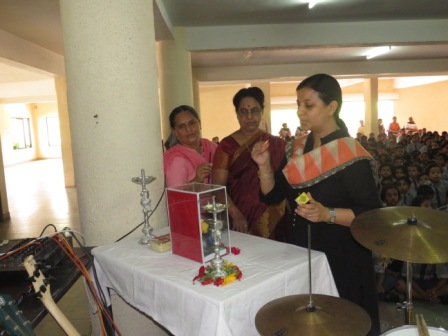 AEMS Founder's Day was celebrated on 21st June 2019. Anekant English Medium School was founded in 2012 as the extended arm of the legendary Tuljaram Chaturchand College. It has inherited a legacy of high quality education and excellence. The students paid tribute to the founders of the school and presented some inspiring speeches on the occasion. International Yoga Day was also celebrated on the same day, where students were informed about the benefits of yoga and were involved in some practical yogic exercises.
---